Happy New Year! I hope you got to relax and take time off from work over these past few weeks. Dave and I had a glorious week+ off. We enjoyed time with family and friends and caught up on sleep and even took a few walks in the bitter, bitter cold land in which we live.
Are you the kind of person who sets goals at the beginning of every year? I tend to set (and unset) goals at random throughout the year. Like in July, after I was sick as a dog for a week, I set a goal to meditate every day. Today is the one-hundred and fifty-second day in a row that I have sat in silence at least once a day.  I've learned that it's pretty simple to incorporate something into the day when it only takes 10-20 minutes of your time. Especially when you tack it onto a pre-existing routine, like getting ready for bed.
Some of my vague goals for 2018 are:
start writing my autobiography
find & enter at least two short story contests
improve diet to include more fruits & veg and less processed food
sleep at least 7 hrs every night, not just on the weekends
exercise, ya lazy bum!
there are more goals, but I'll reveal those as I attain them…
Start writing my autobiography
I've already got half my autobiography written on this blog, so it's just a matter of compiling and editing and I'm off to a great start.
Find & enter at least two short story contests
This should push me outside my comfort zone a bit, and give me a new challenge.
Improve diet to include more fruits & veg and less processed food
I'm already a pretty healthy eater, though my weakness is snack foods. (As I typed that I realized I forgot to have my after dinner cookie, but it's too late now. So… guess I'm off to a good start there.)
I am currently focusing on going totally vegan, which means I just have to cut out the entire block of Cabot cheese I was consuming weekly.  Cut the cheese, Heather!
Also, we're getting a Ninja so we can make better smoothies, so watch out for us!
Sleep at least 7 hrs every night, not just on the weekends
Going to bed is very hard for me… even though I love sleeping, I always think of one (or five) more things to do before I go to bed. It results in my staying up later than I should, and feeling like death warmed over in the morning. So it's really time I got this under control.
Exercise, ya lazy bum!
Confession: I have gained 20 pounds over the last several years. Probably 10 in the last year alone. I don't weigh myself at home, but the last time I had a physical and I got on the scale, I was like,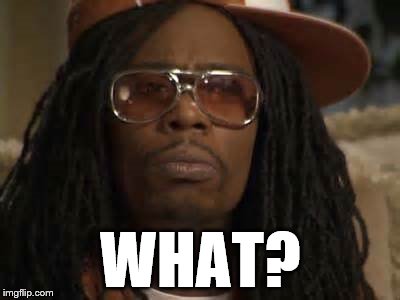 I have to admit, it made sense. I had noticed that some of my pants which had once been loose were now very snug. The harsh realities of weight gain were finally something I'd have to deal with. I guess having a desk job, loving snacks, and not getting enough sleep (or exercise) has really caught up to me.
On that note – it's time for me to get to bed!
What are your goals for 2018?